(Kinda long, sorry. Grab a beverage and sit for a spell.)
The bike is running great. She's pissing herself just a bit though. I've got the water pump seal kit in hand and planned to do that and a few other things while I'm off.
I decided to start my 2 week vacation with a nice, long day ride yesterday (I have weird weekends: Tue/Wed). So I topped off the coolant in the bottle, did my pre-flight and headed out. I did a total of 280 miles, backroads, wandering, stopping, lunch, more wandering and stopping. Then, a 60 mile run at 65-80 MPH and stopped for gas in Hannibal, Missouri (home of Huck Finn, et al).
Started the bike to move away from the pump and there's a jie-normous cloud of sweet white smoke from the right pipe. There's no crossover. It went away in about 20 seconds so I checked things out, had a coFfee and a smoke and headed toward home. More, even better roads (Hwy. 79 is a beautiful and twisty route) encountered on the way.
It wasn't all worry ...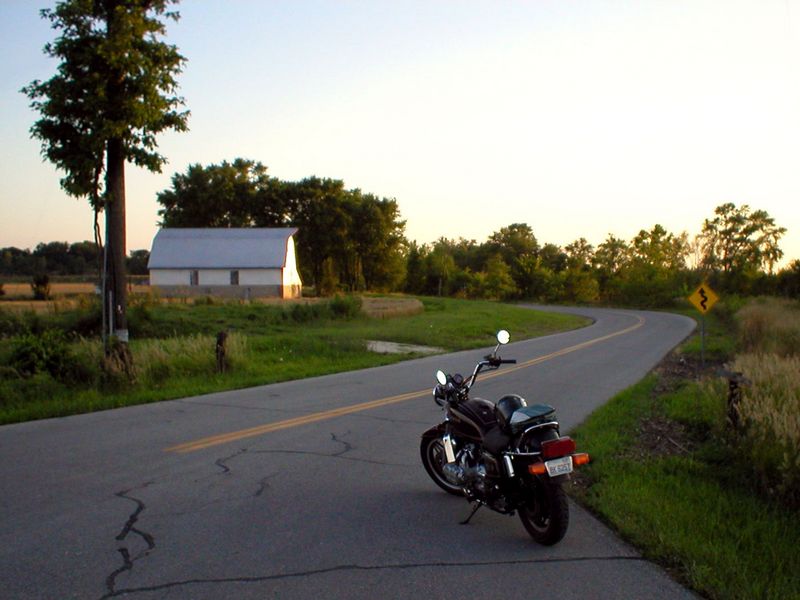 My new desktop.
I made a beeline for home with just a couple of stops. No more sweet white smoke.
Until ...
Pulled into the dark shop, shut here down and up onto the centerstand (easy 4 me) and proceeded to unpack. Then the right muffler started spewing sweet white smoke like Groucho Marx on a bender. [groan] What Now!?! [/groan]
So ... to make this long story even longer and get to my question ... here's the evidence from today's investigation.
Plugs are normal. Dark elements with white porcelain. Not steamed off.

Oil is black with no brown slick, yes, it needed a change anyway.

Clean, green fluid under the radiator cap, no contamination evident.

Icky, sticky, black, pukey stuff inside the coolant overflow bottle.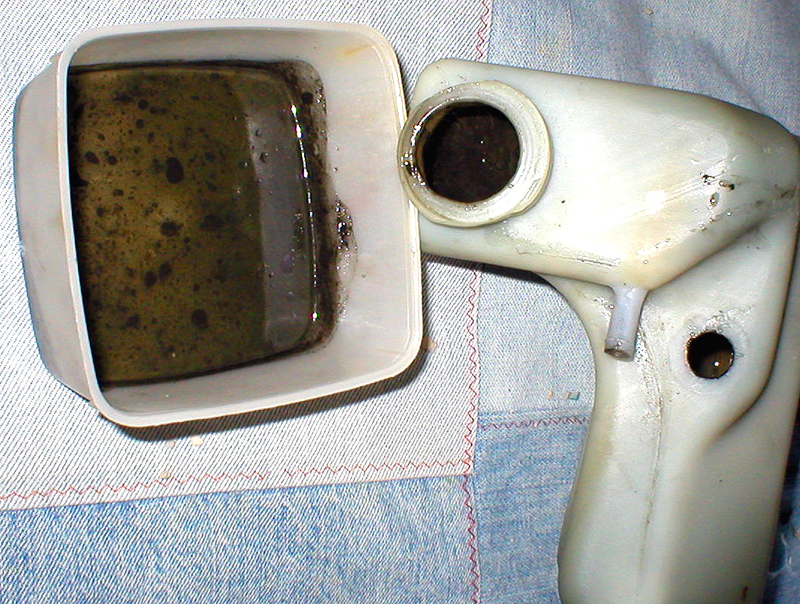 Finally ... my question(s) ...
Am I looking at contamination from the bad water pump seals (found that mentioned in several threads about sweet white smoke)?
Or, has my riding season been cut short?
If it's a head gasket then I'll need to keep her in the stable for some months before I can afford the goodies to fix her. The optimist in me says, "water pump seals," but that darn pessimist keeps tapping me on the ear.
What say you, oh, Wise Men and Women?