westgl wrote:
Beautiful Bike, Great work.
That would be a great candidate for forward foot pegs & forward controls.
Thanks a mundo,
Forwards? I can see where some people would.
For me, I like the stretched out knees up style.
'Sparky is an 'Attitude' or mood ride for me.
Hard to explain, unless you own one.
Hmmm kinda like motorcycling
Quote:
What color's are those on the Tank & Rear fender?
Look at post #160. The color is an Audi Cranberry. The inset color
was made with a chocolate milk tan with enough cranberry added
to 'connect' the two colors. It is base coat / clear coat. I use two stage clear.
Quote:
you are a baaad maaan!!! Do your pipes scrape when you put it into a hard corner?
Ha!, thanks rrn. It's an illusion. It is not lower. I haven't been able to
scrape it. Not even a little bit. Now I don't cafe race with it either
Quote:
Keep the pics comming
You bet !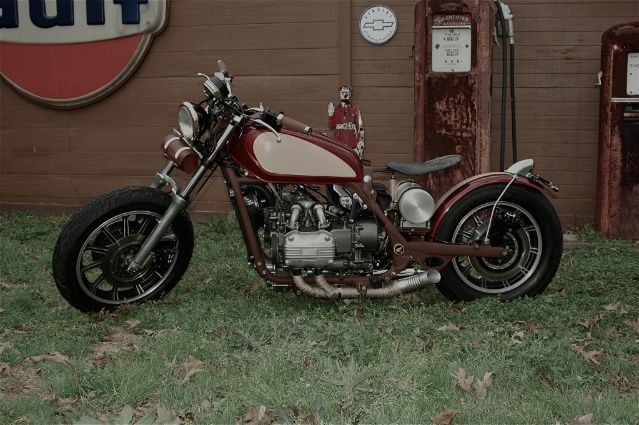 _________________
If we can't fix it, we can fix it so no one else can.
____the CONDOR 2011 BOTY_______________________________ Ol' Sparky - Dec. BOTM
_____________________
'76 GL1000 the Condor
'80 GL1100 Black Dress
'81 GL1100 Red Dress(in worx)
'81 GL1100 Lucky #13(in worx)
'83 GL1100 Ol' Sparky