Well guys, I'm back. You may remember my resto thread for the 77 I inherited from my cousin. I love that bike, but now its basically done! I ride it and my Valkyrie when I can, but that leaves lots of other spare time. So I have been looking for another project. I promised my wife that this one was just for fun and then to be sold. I had a tech post prior to my purchase which ended like this . . . so now, the rest of the story. . . . . . I took a look at the bikes this evening. I first looked at the 76. It was indeed a 76, however there were some issues with the title. I was pretty sure that I could legally get the title in my name but at that point I was negotiating on a "parts" bike. The bike was mostly complete but some of the missing items are the expensive ones. The seat is in good condition but is not an original. It is also missing the grab bar. Kick starter is missing too. Paint is good but not pristine. It started for a minute, all the electrical seemed to work, carbs were original and looked to bein good shape, muffler is good, tires look to be fairly new, battery is new and there appears to be little rust anywhere (except in the gas tank!). Then I looked at the 77. I could tell from the faux tank and rear signal that it was in fact a 79. Sure enough, the vin number showed it to be a 79 but his title said 77. I told him I was not interested in that bike. He also had many boxes of spare parts which I could tell came off a 77. They probably were left over from his titled vehicle. Some were in really good shape. They included a gas tank, gauges, carbs with a non randak rebuild kit, front forks, main wiring harness, muffler and lots of other stuff I just threw in the truck. Long story short I got the 76 and all the spare parts for $300. First thing is to get the title in my name. Once I get that done, I'll inventory everything and begin the resto. I really enjoyed restoring my 77! Hopefully I can sell some of the spare parts to pay for the parts I need. If I can't get the title straightened out, I'll be selling a bunch of 76 and 77 parts! Thanks for your help and I'll hopefully start a resto thread soon. . . . . so now begins my thread. I got the title in my name! My game plan is to once again put the bike back to as close to original condition without getting crazy! I love saving little bits of history ie cars, boats and now bikes. Anyway, here is what she looked like just off the trailer.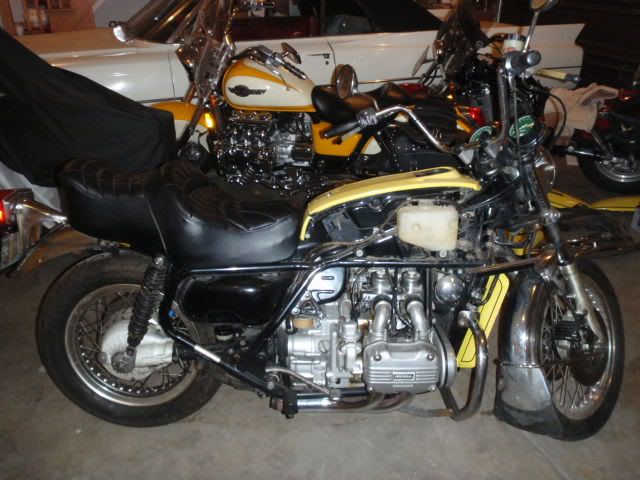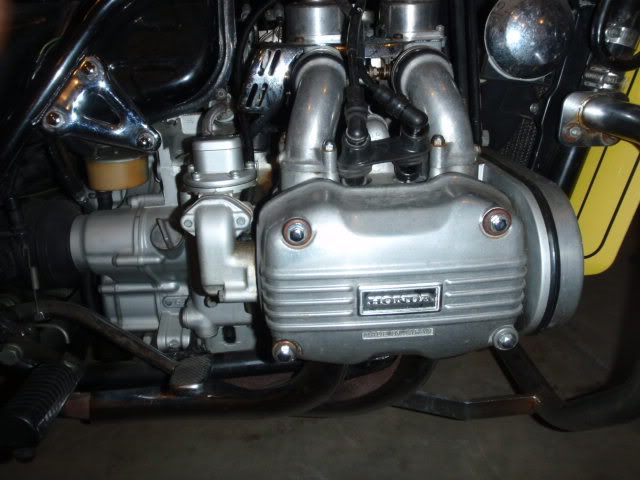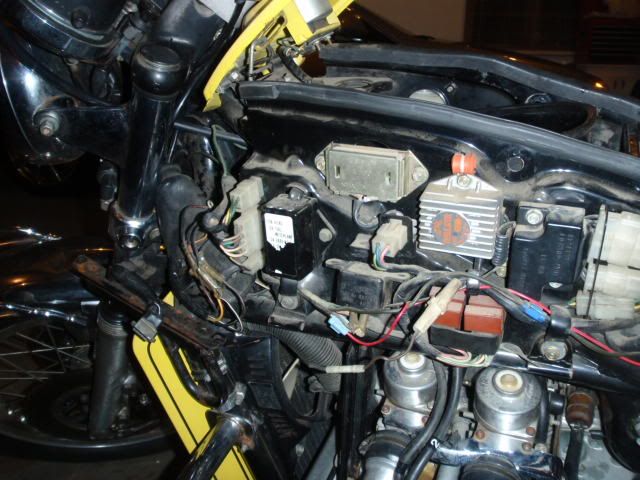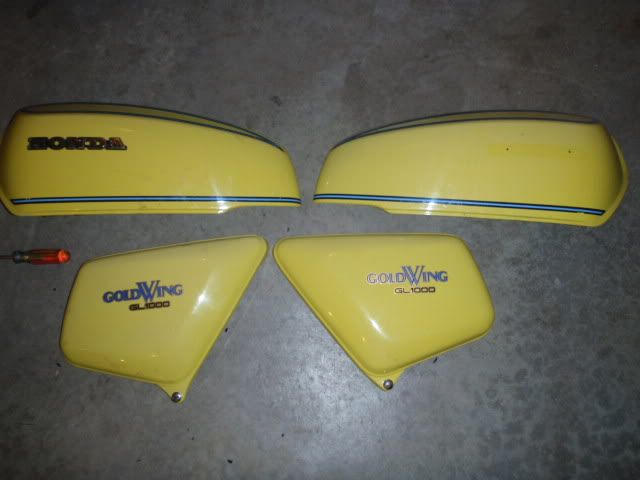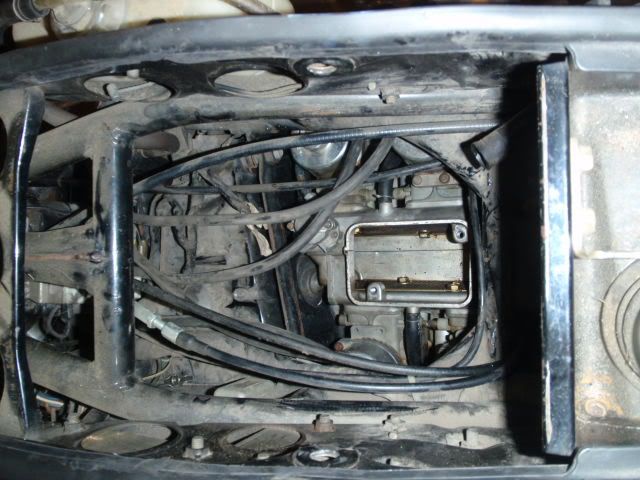 I started taking her apart this morning. Before I pull the motor and electrical stuff, I am going to try to do a compression check. I was also wondering if there is any way that I can tell if the stator is working without the engine running? I would like to know if I need to replace or not. I also have a bunch of questions as to what was stock on a 76, but will save them for later. Thanks for all your help ahead of time and lets enjoy the ride together! Ernie
_________________
Hope for the best, expect the worst and take what comes!
1977 Candy Sirus Blue Wing (gone but not forgotten!):
Ernie's 77 Resto
1998 Yellow/Creme Valkyrie (sold):
Valk Redo
1976 Sulfur Yellow Wing (sold):
Melloyellow to live again
1976 LTD #1353 (my new love!):
And away we go . . . . LTD style
1970 CT90:
Had too much time on my hands so . . .
1/4 of 1975 Wing #898 (Sold):
Team 898 - raised from the ashes