And so an end comes to the saga of Melloyellow. I proclaimed her finished (are they ever really finished?) July 4th. I had her for sale on Cl, ebay and locally, but no takers. I decided to take her to Vintage Motorcycle Days in Mansfield Ohio. She was set up and spit shined by about ten am. At about noon, Oldewing set the hook and I reeled him in. A real nice guy named Ryan from Lansing Michigan. Hopefully he will become a new NGW member.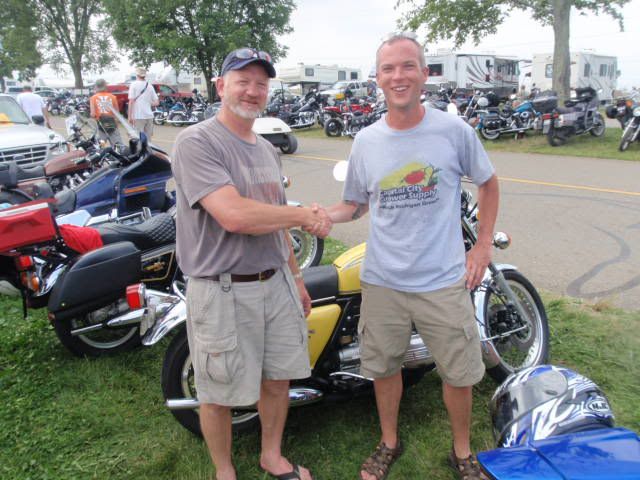 I would like to say, it has been a blast! I learned a lot about these wonderful machines, gained some new friends along the way and learned a thing or two about myself. I'm not sure when this will happen again, but until then thanks to all that have been a part of me and Melloyellow.
)
_________________
Hope for the best, expect the worst and take what comes!
1977 Candy Sirus Blue Wing (gone but not forgotten!):
Ernie's 77 Resto
1998 Yellow/Creme Valkyrie (sold):
Valk Redo
1976 Sulfur Yellow Wing (sold):
Melloyellow to live again
1976 LTD #1353 (my new love!):
And away we go . . . . LTD style
1970 CT90:
Had too much time on my hands so . . .
1/4 of 1975 Wing #898 (Sold):
Team 898 - raised from the ashes