Hedgepig wrote:
Octane, thanks for the superb photographs/guides on how to revamp a full set of carbs -...
You're so welcome Hedgepig.
Glad if it was helpful.
FirstYearDeek wrote:
I realize this is kind of an older thread, but I had a question;

I have plans to re-finish my carbs in non-stock style. Plenum, carbs, CV slides, intake runners and all powder coat.

High-temp black wrinkle or black chrome powder-coat. (BC on the polished bits)

Would anyone here be interested in seeing an extension (of sorts) of this kind of thread that went into detail on what to block, how to prep, etc.?

I won't go into detail about the carb rebuild, that's been done very well by Octane... According to Randall, the video doesn't cover refinishing. (I haven't seen it) so maybe an addendum-type thing would be useful to someone who wanted to powder-coat or more likely, paint, their carbs?

-Deek
Yes, yes, yes and yes.
Please Deek. Do a thread about it.
That would be great.
_________________
Da' Supercharged Bulldog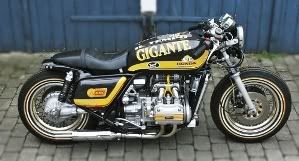 "A designer knows he has achieved perfection
not when there is nothing left to add
but when there is nothing left to take away"
Antoine de Saint-Exupery