F A N T A S T I C project.
I wish you all the luck in the world
!
WINGMANDWN wrote:
... we have found a way to make a Gl1000 run at 12,200 RPMS ....
I do believe that even the standard crank/etc. set-up
can take quite some beating:
(Please disregard the clonking clutch...it was going south, fastlike)
...my supercharged GL1000: CLICK the image (..and turn UP sound)
<embed width="448" height="361" type="application/x-shockwave-flash" wmode="transparent" src="http://i184.photobucket.com/player.swf?file=http://vid184.photobucket.com/albums/x214/octane98/wroooooooom.flv">
_________________
Da' Supercharged Bulldog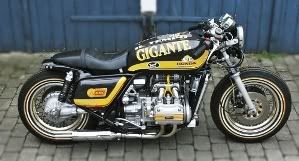 "A designer knows he has achieved perfection
not when there is nothing left to add
but when there is nothing left to take away"
Antoine de Saint-Exupery